Long time with no post, so here goes:
1. I finished the British History class I was taking, and I started the Russian history class that I signed up for. When I'm done with this class I will have all of credits I need to be endorsed in both Government and History/Social Science.
2. Work sucks. We can't wait to get out of here. I got a whole new group of kids this past week. Two of the classes are fine and one is full of @ssholes. Oh well.
3. Kim is fine. I'm fine. The cats are fine. Phoebe the lizard is fine.
4. I got tattooed yesterday. It's covering up some ugly sh!t that was on my leg. Here's some pics:
Close up: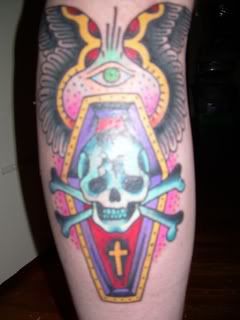 Longer view:
Hoep all is well.