Long time no post so here goes:
1. Work is getting better. Slowly. I am adjusting and getting used to my surroundings.
2. The house is really coming along. The yards are looking better and they're are even (some) pictures on the walls.
2. I got a new tattoo this weekend. The pictures were taken just a few minutes ago, so 48 hours out. Lots of people try and act tough and say tattooing doesn't hurt or whatever. It does. Not terribly, but it hurts. Many people, myself included bruise afterward. This one starts on m,y inner bicep and goes around my arm. The inside of the arm is pretty-much always brutal. Here are some pics to demonstrate (note the bruising--picture an 8 inch by 8 inch bruise):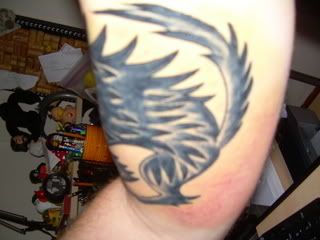 Cat's tail and a heck-of-a bruise.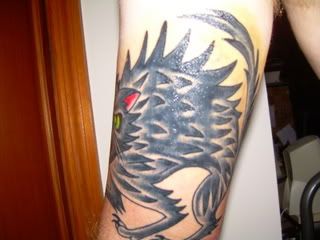 Cat's back and more bruising.
Cat Face.
Cat's back, face, and front legs.
Pardon the glare, I'm covered in A & D ointment.
Hope all is well.